Prescription Stimulant Availability       Considerations for Buprenorphine Initiation and Maintenance Care
Understanding Fatal Overdose      Stimulant Use Disorder Treatment Workshop      
Harm Reduction Roundtable      Individual & Provider Perspectives      Naloxone Access      Payor Perspectives
The United States is facing an overdose crisis. Over 107,000 Americans died of drug overdoses in 2021, according to the Centers for Disease Control and Prevention's provisional estimates. According to the Department of Health and Human Services (HHS), the overdose crisis has evolved over time and is now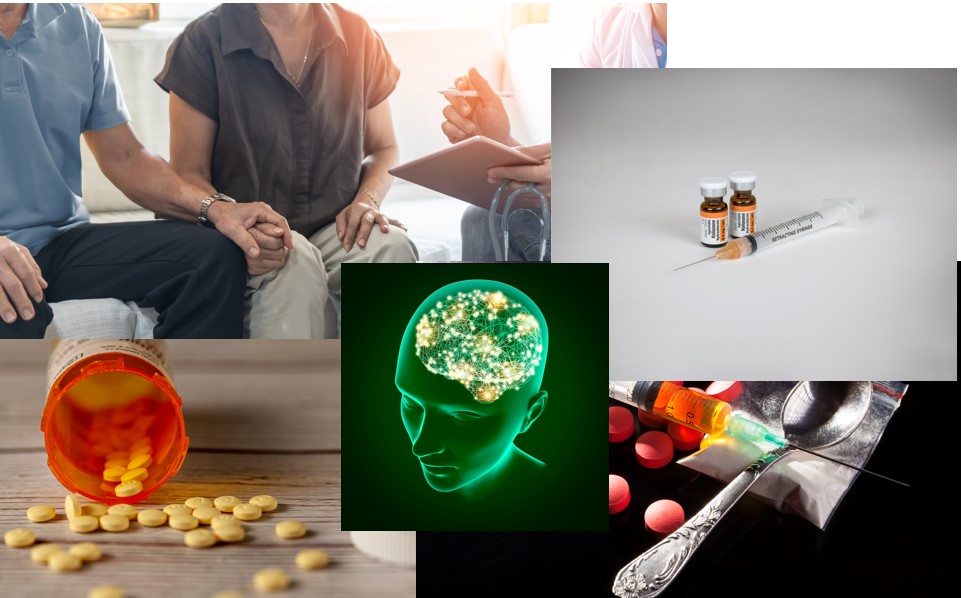 largely characterized by deaths involving illicitly manufactured synthetic opioids, including fentanyl, and, increasingly, stimulants.  Since 1999, the rate of overdose deaths has increased by more than 250%. In response to these changes, HHS launched its Overdose Prevention Strategy to focus on primary prevention, harm reduction, evidence-based treatment, and recovery support. 
The Reagan-Udall Foundation for the FDA (FDA Foundation) supports the U.S. Food and Drug Administration's work to develop strategies for the prevention, treatment, and management of substance use disorders by engaging with stakeholders in the health, regulatory, industry, caregiver and advocacy communities to identify and address critical gaps across the SUD treatment system.
Mitigating Risks from Human Xylazine Exposure Public Meeting
Image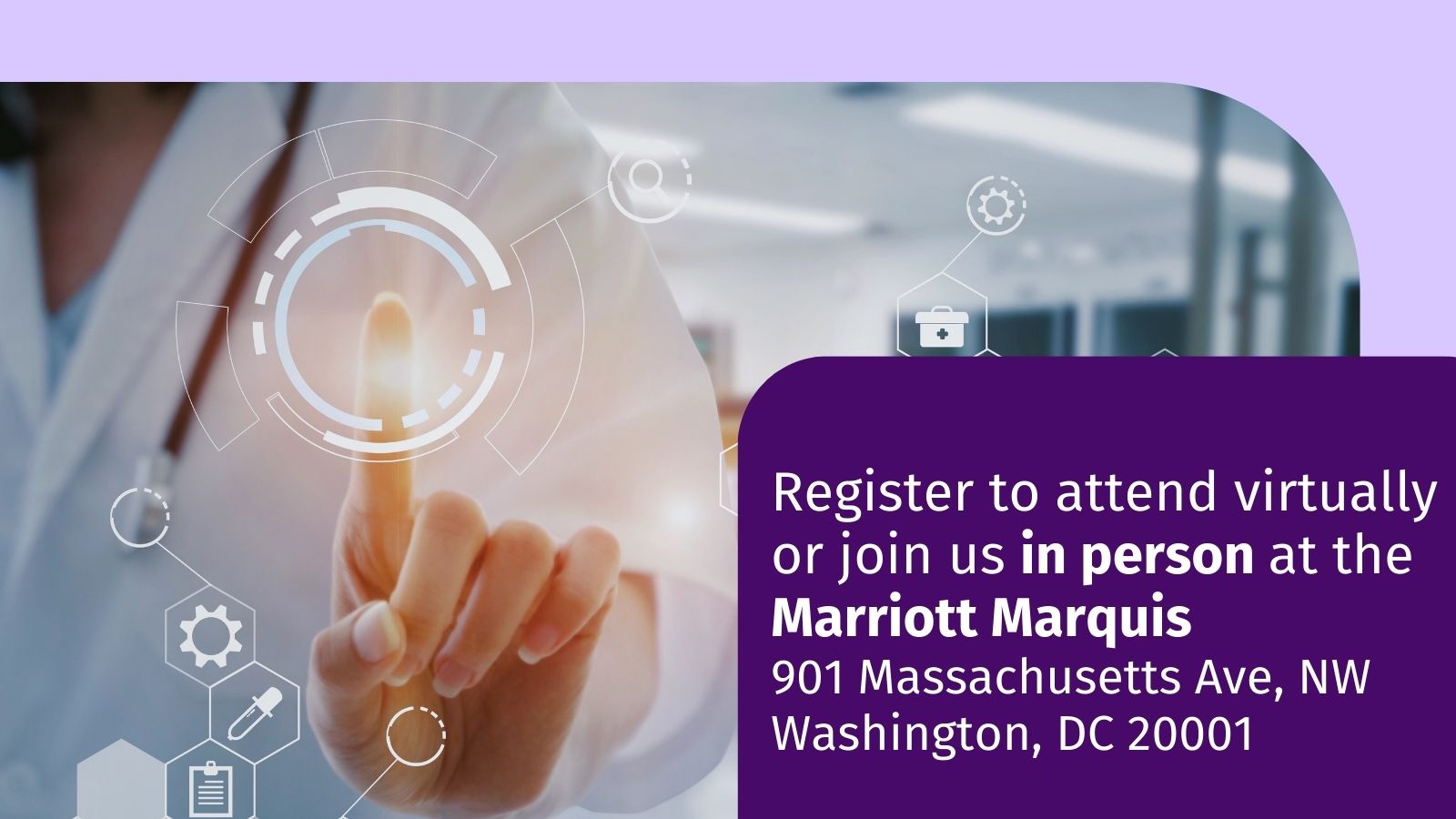 October 4, 2023 | 9:15am-4:45pm (eastern)
Explore real-world experiences and emerging data trends for human xylazine exposure during a full day hybrid meeting. Clinical and scientific experts, community and harm reduction leaders, academic researchers, and federal partners will examine concrete strategies for drug development and clinical research that directly supports the mitigation and reduction of risks associated with human exposure to xylazine.
Factors that Affect Prescription Stimulant Availability
Image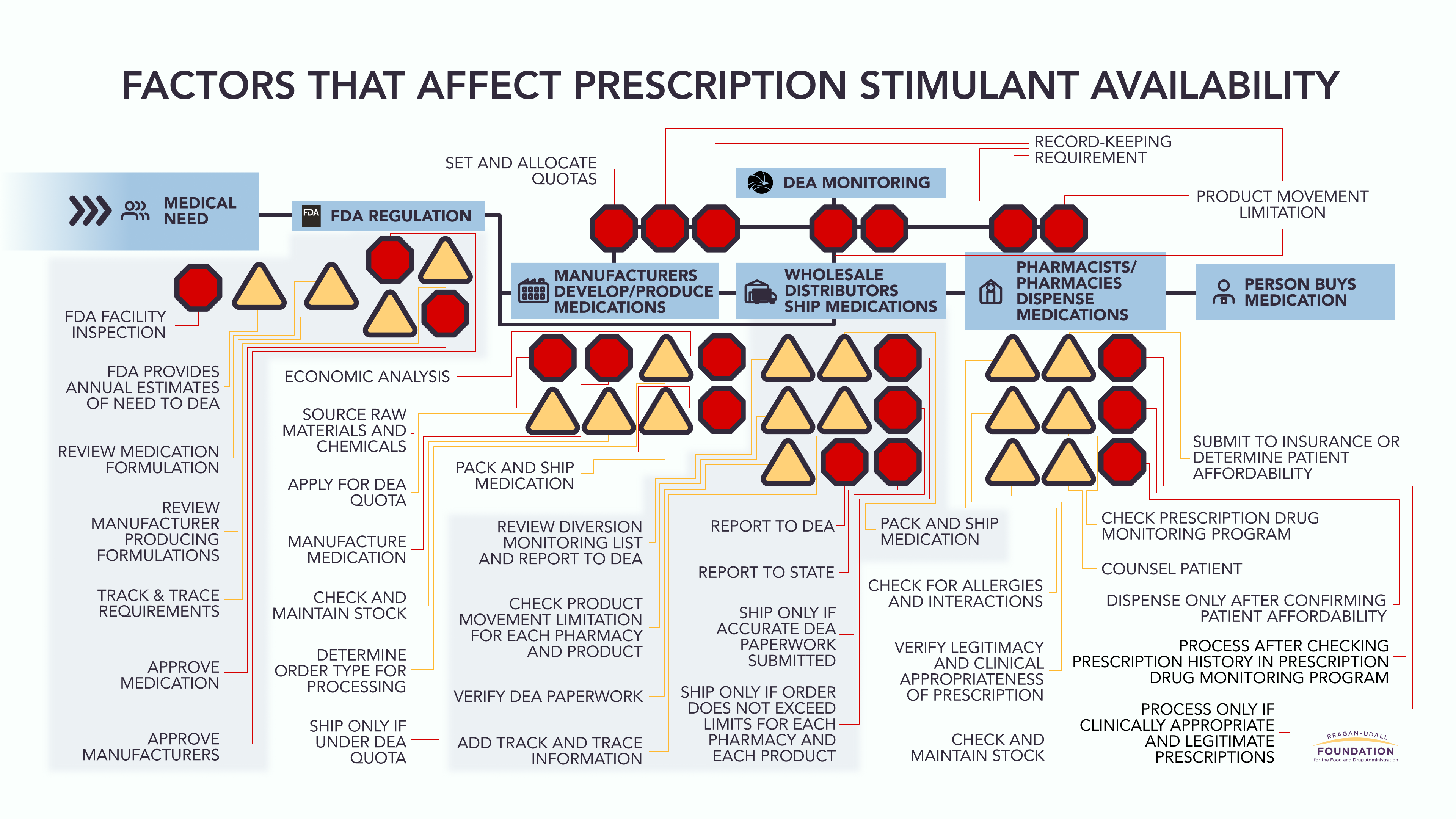 In recent months, families and individuals have reported increased challenges in accessing prescribed stimulant medications such as those used to treat Attention-Deficit/Hyperactivity Disorder (ADHD). The Foundation, in partnership with the FDA, has embarked on a new project to illustrate the factors that affect prescription stimulant availability.
The pathway to access these medications, classified as controlled substances, may seem straightforward with a relatively simple supply chain. In reality, the path of a prescription stimulant—from approval through manufacturing, distribution, and dispensing to the patient—has a number of challenging steps and requirements, any of which may slow down or interrupt the movement and accessibility of the medication. This preliminary image presents an illustrative but not exhaustive view of that complexity.
Considerations for Buprenorphine Initiation and Maintenance Care
Image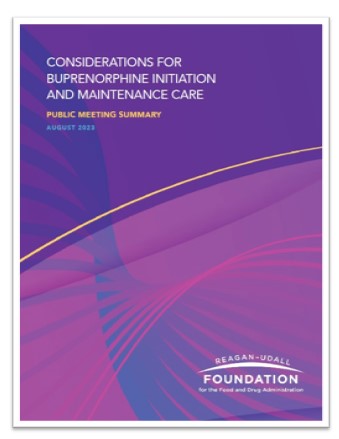 Buprenorphine is a safe and effective prescription medication used for the treatment of Opioid Use Disorder (OUD). Initiation of buprenorphine takes careful planning: patients must already be experiencing mild to moderate withdrawal symptoms or risk precipitated withdrawal. An increase in fentanyl in the illicit drug supply further complicates buprenorphine initiation and maintenance adding to the access challenge.
The Foundation, in collaboration with FDA and the Substance Abuse and Mental Health Services Administration, held a two-part virtual public meeting on "Considerations for Buprenorphine Initiation and Maintenance Care" to support efforts to develop products and approaches to treat OUD.
This report summarizes the discussions and presentations which explored solutions, innovative public health interventions and needed investments in research and product development to spur progress.
Understanding Fatal Overdose
Image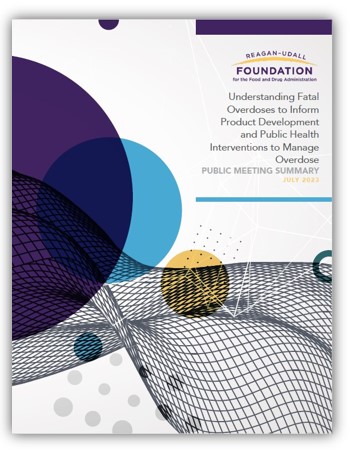 Drug overdose persists as a major public health issue in the U.S. Synthetic opioids, such as fentanyl and its analogs, are the primary driver of the increase in overdose deaths.
In March 2023, the FDA Foundation, in partnership with the Food and Drug Administration (FDA) and the Substance Abuse and Mental Health Services Administration (SAMHSA), hosted a virtual public workshop titled "Understanding Fatal Overdoses to Inform Product Development and Public Health Interventions to Manage Overdose" to examine the evolving context surrounding fatal overdoses and strategies to better manage overdose moving forward. 
This summary report explores solutions and addresses regulatory considerations for future action and innovation.
Stimulant Use Disorder Treatment Workshop
Image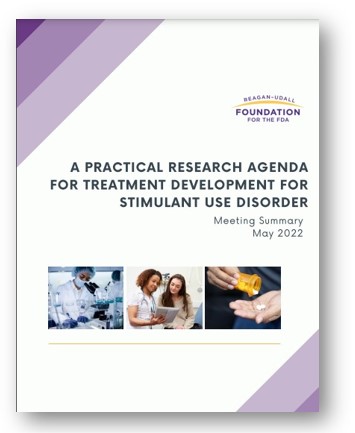 The FDA Foundation, in collaboration with FDA and the National Institute on Drug Abuse (NIDA), hosted a virtual public workshop to discuss a practical research agenda toward treatment development for stimulant use disorder.
Meeting participants responded to a proposed practical research agenda that focuses on innovation in clinical trial design and candidate endpoints for the evaluation of potential treatments for stimulant use disorder.
Harm Reduction Roundtables
Image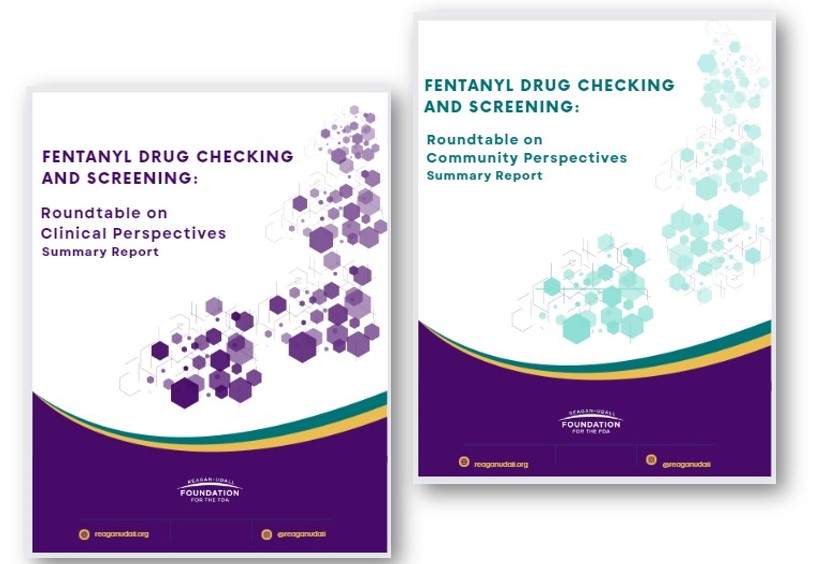 Individuals inherently deserve services that promote health, regardless of whether they use drugs. Harm reduction is a set of proactive and evidence-based approaches that reduce the negative personal and public health impact associated with the use of alcohol and other drugs.
The FDA Foundation, working with FDA and several operating divisions within HHS, held two roundtables exploring community and clinical perspectives on fentanyl drug checking and screening. Community participants discussed their experiences using fentanyl test strips (FTS) and other drug checking methods, and clinician and researcher participants shared their perspectives on both clinical fentanyl testing and distribution of FTS to patients.
Read the Clinical Perspectives
Individual & Provider Perspectives
Image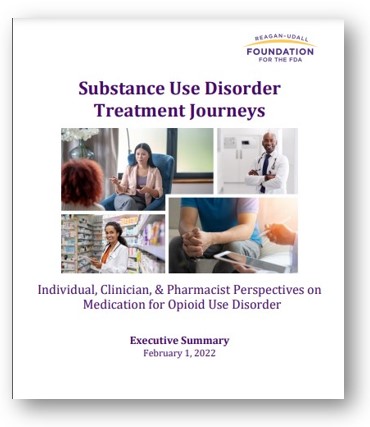 The FDA Foundation partnered with FDA's Center for Drug Evaluation and Research to gain a deeper understanding of individuals' experiences with substance use disorders (SUDs) – and specifically with SUD treatment. Our approach was to track individual treatment journeys to identify the specific challenges they faced and the supports they found helpful. Our goal is to use this ethnographic research to identify potential system improvements and engagement opportunities that can help inform FDA's work in the prevention and treatment of SUDs. For this project, we looked at two specific issues: experiences exploring or using medication for opioid use disorder (MOUD), and trajectories of treatment for individuals who have pursued SUD treatment more than once.
Individuals exploring the use of medication to treat SUDs do not travel their paths alone. They are connected to networks of providers, peers, and family members who may have their own experiences, opinions, training, and expertise. Mapping individuals' experiences led us to also map the experiences – and potential influences – of prescribing clinicians, non-prescribing clinicians such as counselors and therapists, and pharmacists. Individuals and these provider groups demonstrated generally positive views of MOUD and SUD treatment in general. 
Naloxone Access: Answering Questions
Image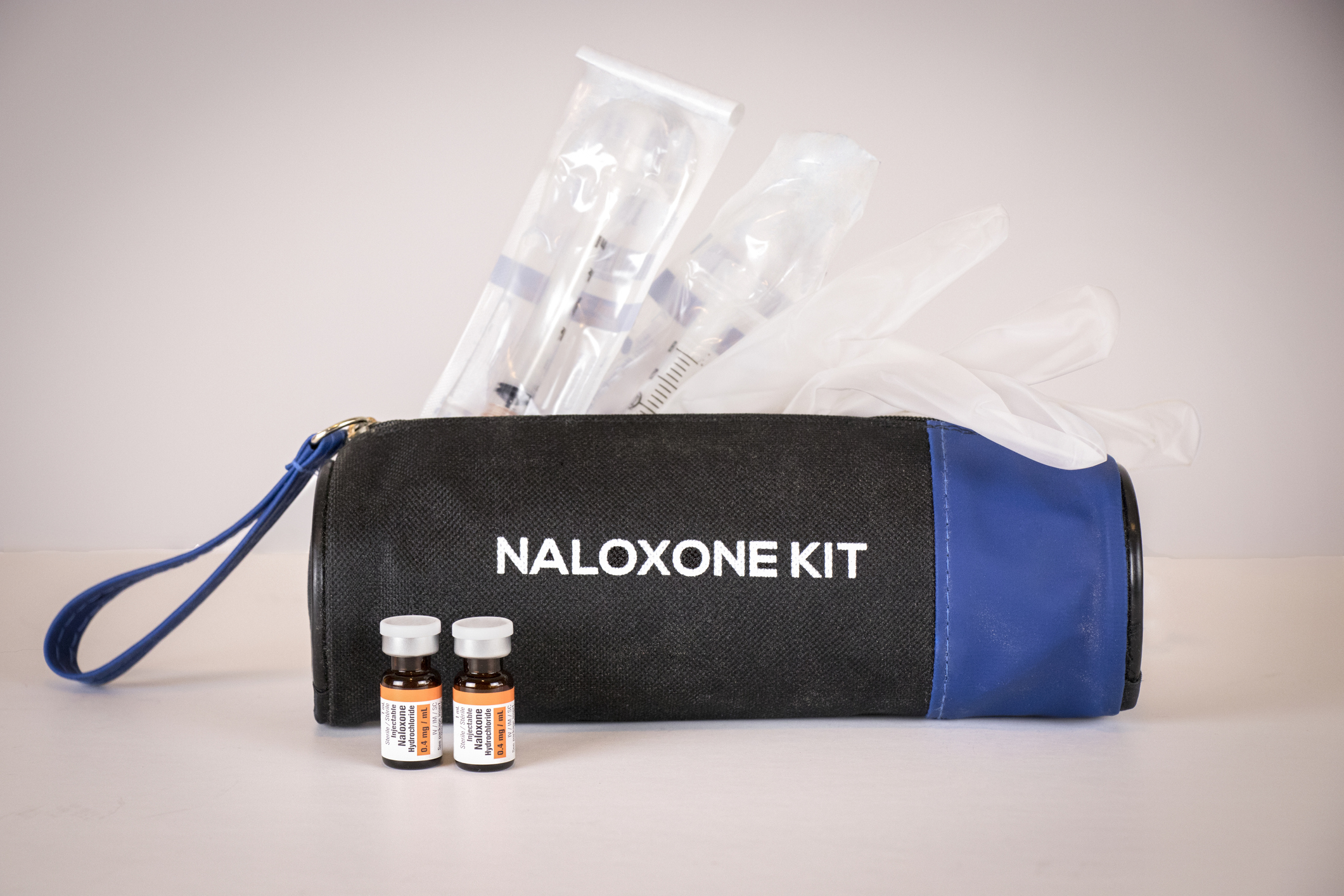 The Foundation teamed with FDA to host this virtual public meeting addressing some of the most frequently asked questions about access to naloxone, an antidote to opioid overdose.  
Harm reduction specialists, physicians, pharmacists, and regulators explored the current landscape of naloxone availability, examined perceived barriers to naloxone access, and addressed questions posed by various groups on this subject. We then opened mics for nearly an hour of public comment to hear first hand from communities. 
Naloxone: Economic Impact
Image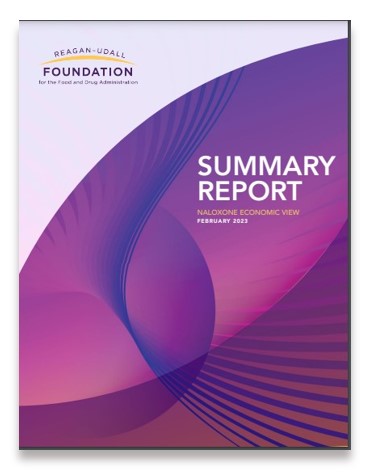 The Naloxone Economic View Summary Report explores the current distribution of naloxone in the U.S. and the potential economic impacts of a change in the prescription-only status of naloxone. The Foundation, in collaboration with FDA, analyzed data to estimate the amount of naloxone distributed in 2021. The report also includes findings from our expert roundtable with the payor community focused on understanding how a shift is the prescription status of naloxone might impact costs and consumer access.
Payor Perspectives
Image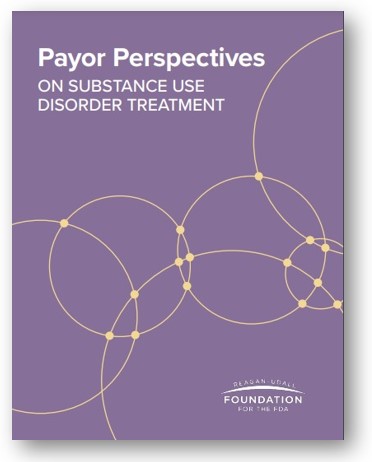 The FDA Foundation convened, in conjunction with FDA's Center for Drug Evaluation and Research, a roundtable on "Payor Perspectives on Substance Use Disorder Treatment." The purpose of the roundtable was to hear key stakeholders' perspectives on health insurance coverage of pharmacological treatments for SUDs, including how FDA approvals and labeling affect payors and insurance coverage.
Patient advocates, clinicians, payors, health economists, and federal leaders all participated. Attendees discussed the data framework insurance companies utilize in making coverage decisions for patients receiving substance use disorder treatments. The convening additionally generated real-world insight into how regulatory decisions are applied in ways that impact people's daily lives.