Expanded Access Programs and Real-World Evidence: Public Meeting
Expanded access programs, sometimes also called "compassionate use" programs, provide patients with serious or immediately life-threatening diseases or conditions access to investigational products outside of clinical trials
Image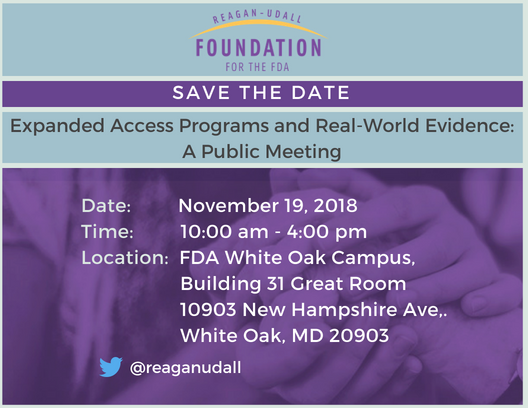 On November 19, 2018, the Reagan-Udall Foundation for the FDA will convene an all-day public meeting to discuss protocol-based Expanded Access Programs, and to identify the challenges and opportunities in utilizing real-world evidence from these programs for regulatory decisions. 
This public meeting will gather and engage key stakeholders from the FDA, including Commissioner Scott Gottlieb, M.D., CDER Director, Janet Woodcock, M.D., and CBER Director, Peter Marks, M.D., Ph.D., as well as leaders from industry, physicians and patient representatives to:
Increase understanding of expanded access obstacles and opportunities from the perspective of varying stakeholders;
Discuss the potential utility of information gained from Expanded Access Programs to enhance safety and efficacy data obtained from clinical trials; and,
Provide recommendations, if needed, for future FDA communications on utilizing real-world evidence from Expanded Access Programs.
Meeting agenda and registration will be posted in September. For more information, contact Amar Bhat at (202) 849-2070 or abhat@reaganudall.org.
For more information on our expanded access resources, click here.